When you are planning for your kitchen remodel you should be smart and wise in choosing everything, especially, the kitchen finishes. The kitchen is all about matching functional look to keep your daily actions go smoothly and cozily. You need a kitchen that meets your requirements from functionality to a cozy family gathering atmosphere.
Therefore, choosing your kitchen finishes wisely is way important to get the kitchen of your dreams. Even it may seem a challenging task, and there are many approaches according to the world of design professionals to choose kitchen finishes depending on preferences and taste. But we can help you via some useful common tips given by many designers you can get that task done properly.
Let start the fun; kitchen finishes are about coloring, materials and also effects if wanted. This means you need to match all your kitchen finishes together aesthetically and functionally as well from cabinets and countertops to floorings and backsplash and more. It is a kitchen so it should have durability, sturdiness, and easiness along with beauty; consider these features well before choosing your kitchen finishes.
These are: Design or Durability; Functionality; Easy Installation and Best Colors and Patterns.
1: Design or Visual Looks
The cabinet is the first visual statement to make so keep in mind to go simple as possible. A neutral colored kitchen cabinet with a sleek design probably made of wood as the best in durability and appearance with/without glass inserts is the best choice for the kitchen cabinet finish. According to your decor and kitchen style, the decoration or style of your cabinet will be chosen; shaker-style cabinet is ideal for both traditional and modern kitchens in a white color as well.
You need a durable, easy to clean and maintain and a beautiful countertop in your kitchen so you need to choose the right color, material and finish; a durable granite or Caesarstone material could be a great statement. For more warmth, you can go for wood kitchen countertop with a mix of another material but keep in mind just two choices of materials no more. While for colors, you can get the color that matches your cabinets and floorings to keep the beauty flow.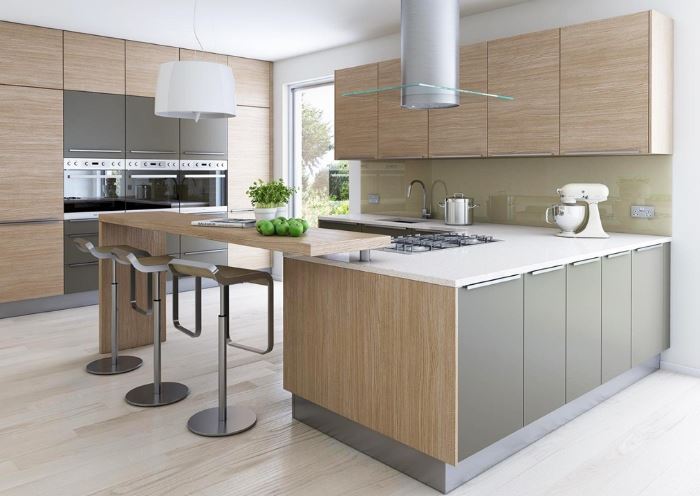 our flooring could be either made of a hardwood or vivacious porcelain tiles both could complete your choice of cabinet and countertop finishes. Then, you need to tie all the kitchen together with charming details; backsplash and hardware are your best finishes to add a pop of color or a touch of style.
get the best color and pattern that contrast perfectly with your cabinet and countertop, while metal hardware finishes are the best to add a touch of class and charm. Instead, you can also go for glass finishes for brightness and sleekness.
At last, it is a matter of taste and creativity but the keys are functionality, contrast, and harmony and then, enjoy your stylish kitchen!
2: Consider the Cabinetry
Depending on the kitchen, you might start with the cabinet as the beginning of the materials palette. "This is what ends up being most 'in your face,' as the wall cabinets are smack dab at eye level,".
Keep material choices as simple and natural as possible. Slate, marble and wood are all common choices. The recommendation is to  stick to a small palette — three or four materials — to keep it simple. Look for light-colored cabinetry to keep the space open and bright, using other materials in small doses for visual depth and texture